About Us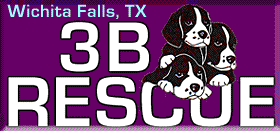 The purpose of 3B Rescue & Adoptions is to provide a combined local effort to
assist in decreasing the number of dogs that are needlessly killed in shelters and humane societies. Rescuing dogs that face death in shelters and providing them the chance to find their forever home while also providing educational efforts throughout the Texoma area are services provided by 3B Rescue.
We are a small group of individuals who work to rescue dogs in the Wichita Falls and surrounding areas. Border Collies, Brittanys, and Boxers are the three main breeds we work with. Depending upon room and resources, we do and have on many occasions taken in other breeds and mixed breeds. We network with many rescue resources through out the state of Texas and Oklahoma to help as many dogs as we can by providing transportation and assisting in home visits and referrals. We only accept dogs that are in kill shelters. These dogs are in crisis and urgently need our assistance. Owners who wish to rehome their pets are given assistance in placing advertisements or working with them in order to help them keep their dogs.
Each dog is fostered in our homes, and receives all medical care and behavior
assessment/training as needed. All dogs are spayed/neutered before being
placed in a "forever" home and are current on vaccinations and heartworm
preventive. Adoption fees are used to help defray the costs for each dog
and to help with future rescues, as there is always a waiting list of dogs
desperately needing rescue.
At 3B, our ultimate goal is to help place unwanted dogs into loving "forever" homes. We require an adoption application and references, which are checked.
We also require a home visit to ensure that the dog and the potential adopters are the best match possible.

DIANN has been influenced by boxers her entire life and currently is owned by four boxers plus her own adopted rescue dogs: a Collie, a Dachshund mix and a Miniature Poodle. Diann and her dogs participate in obedience and therapy work. She owns and operates Accent Grooming in Wichita Falls.
KATRENA is the Border Collie addict and has been officially involved with Border Collie Rescue of Texas, Inc for over 3 years. She grew up with Border Collies and Australian Cattle Dogs, and now shares her home with five former rescue Border Collies and a Boston Terrier mix rescued from the Vernon,Tx shelter. She and her dogs participate in obedience trials, herding, and therapy work. She is also in training for future flyball fun.
PAM shares her home and heart with three Brittanys, a Chow-Lab mix, a Belgian
Sheepdog and a Border Collie, co-owned with Katrena. Pam has been involved
with Brittanys for many years and with Brittany Rescue for three years. Pam is active with her dogs in obedience trials, therapy work and herding.
Copyright © 2001 3B Rescue
All Rights Reserved